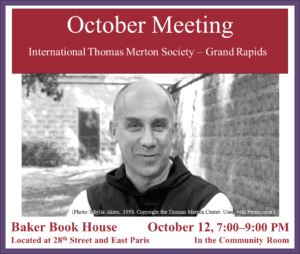 Our group has had such a wonderful time digging into Fr. Louis' seminal book New Seeds of Contemplation that we will spend another meeting discussing it.
We will gather together again on Wednesday, October 12, at 7pm, at Baker Book House near the corner of 28th Street and East Paris in Grand Rapids, Michigan.
You can buy a copy of New Seeds of Contemplation at Baker Book House.
In addition to New Seeds, we'll chat about the movie The Many Storeys and Last Days of Thomas Merton.
You can download the pdf flyer for our next meeting here.
Print it out. Or e-mail it to interested friends.
All are welcome!
NOTE: Patrick returns from pilgrimage in Italy and will tell us all about it at our October meeting. You won't want to miss!